GCSE Results Day 2022: Students at Stratford School Academy have achieved the school's best ever results
Whole School
Posted on 25th Aug 2022
Students at Stratford School Academy have sat public exams for the first time in three years after cancellations in 2020 and 2021 and have achieved the school's best ever results.
Overall, 84% of students gained a 4 or above in both English and Maths and over 72% gained strong passes of 5 or above in both subjects.
There were many individual successes, for example:
Saba Shaikh achieved grade 9s in all subjects
Owen Wang gained 8 grade 9s and 1 grade 8.
Patrizia Hossain made excellent progress in gaining grade 8 in 5 subjects.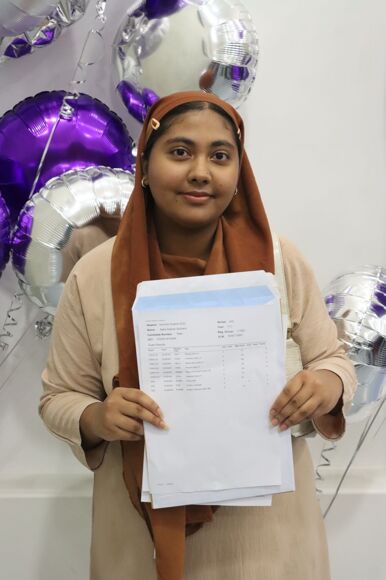 Saba S achieves grade 9s in all her subjects
Saba S achieved grade 9s in all subjects
This year, following the reintroduction of public exams, grades were awarded by exam boards.
Headteacher Craig Hewitt said: "We are delighted with the exceptional results achieved by our students this year, particularly given the challenges of the Covid pandemic. That they have done so well is testament what a wonderful cohort of young people they are.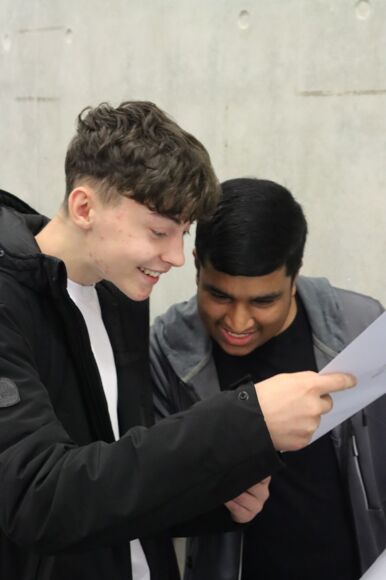 Students share their success amongst their peers
Our staff were delighted to witness the resilience and commitment of students in all subject areas, which saw them attend GCSE intervention after intervention and come out on top!"
Among those celebrating was Pedro Lira who started at Stratford School Academy in 2017 after emigrating from Brazil.
Pedro could not speak any English when he first arrived yet achieved grade 8 in English Literature and 7 grades above a grade 6. Speaking on his secondary education at SSA, Pedro said:
"Apart from sitting my GCSE exams, one of my proudest moments was when I was able to read aloud to my class without anyone correcting me or giggling when I mispronounced words. Now, thanks to all of my teachers and most importantly the EAL (English as an Additional Language) department, I am able to say that I've achieved some really great results today."
When discussing how he felt about sitting public examinations, given the challenges faced by his year group because of the Covid pandemic, Pedro said:
"When we came out of lockdown, we were all a bit nervous about our GCSEs but the teachers at Stratford School Academy were on top of it. They organised interventions for us which took place before school, after school and on Saturdays and we were also given access to MyTutor which provided us with additional 1-1 tuition. All of this meant that when it came to actually sitting our exams in the hall, a lot of us felt quietly confident."
Pedro will now go on to study Maths, Product Design and Engineering at London Design and Engineering UTC, and dreams of successful future in Engineering.
On the cohort's success, Mr Hewitt added: "Thanks to the hard work of our staff, this year, our students have really taken every opportunity afforded to them to grow not only academically but as individuals. I am confident that the Class of 2022 will take this spirit forward with them and go on to do great things."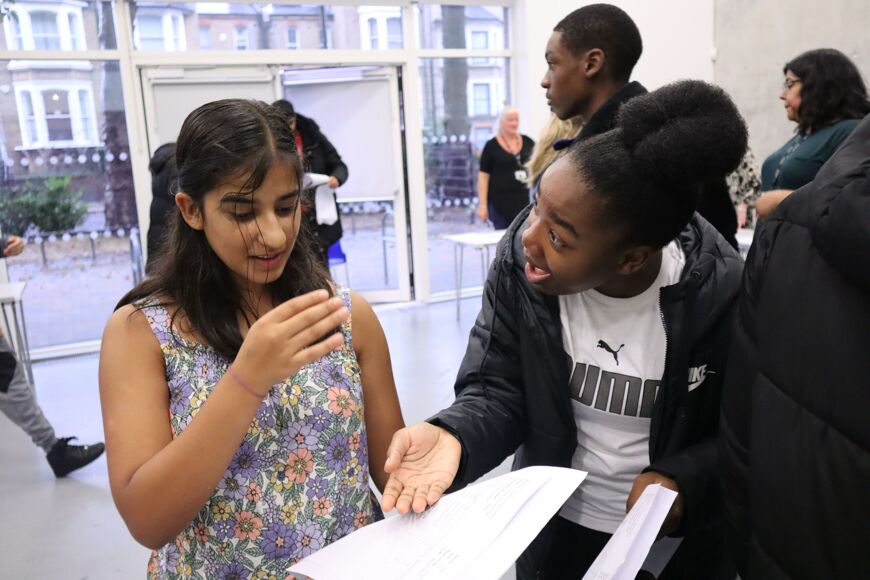 Students shock and delight upon opening their results